Contact: Janet Killian, Libary Media Specialist Phone: 586-2862
Email: KillianJ@hcboe.net
It is my goal to develop and encourage students to become active readers, as well as teach the necessary skills so that each child can access, use, and evaluate needed information.
Thank you for allowing me to share my passion for books with your child!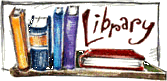 Accelerated Reader
If you need to find out if a book is an Accelerated Reader book go to the site and type in the title.
It will also give you the grade level of the book.
Story Line On-Line
A great site to listen to some favorite children's books on-line.
Book Adventure
A reading motivation program for children in grades K-8. It offers recommended reading lists by grade level.
Library Search
Search in our library to find the books in our collection.